Crimeculture's Lockdown Favourites
Over the coming weeks, Crimeculture will be reviewing a selection of the outstanding crime novels we have enjoyed during the 2020 lockdown.
Lucy Atkins, Magpie Lane (2020)
Review by Lee Horsley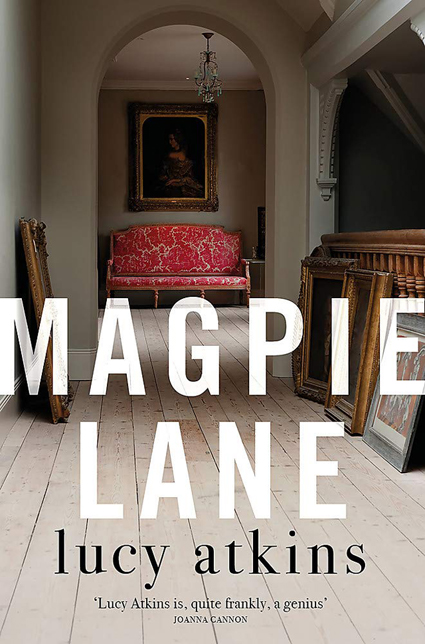 Magpie Lane is Lucy Atkins' fourth novel. Like her previous novels – particularly the superb The Night Visitor (2017) – it is a twisty, completely engrossing, suspenseful and stunningly well-written psychological thriller. Set mainly in Oxford, it creates a richly detailed sense of place, often summoning up eerily gothic echoes of lost loved ones and of the insidious erasure of the past by a self-satisfied present encroaching on the lives and memories that old places once contained.
The events of Magpie Lane, including the mysterious disappearance of the Master's young daughter, take place in the midst of the chaotic, cacophonous updating of the Master's Lodging, a renovation driven forward by Nick Law, the new Master of the College, and his unhinged Danish wife Mariah, a wallpaper specialist. Both Nick and Mariah are brilliant at what they do, but are at the same time obtuse and deficient in nearly every other respect. They see themselves as the harbingers of the future, painting and papering over all of the old woodwork, and their transformation of the College is emblematic. Dee, the nanny, reflects that "the wallpaper seemed to represent everything that was wrong with Nick and Mariah – the extravagance of their rarified life; their substanceless parenting; their artifice and concealment."
Their determined process of modernization will ultimately extend to the furthest reaches of the house, including a mysterious locked room reputed to have been a priest hole. This tiny space, which may or may not be haunted, is a source of fascination to Nick's eight-year-old daughter, Felicity, and to her Scottish nanny, Dee, who agrees to look after the little girl when she realizes the utter dysfunctionality of Nick and Mariah: "As Mariah beamed manically at me, it occurred to me that it was not the adults who desperately needed my help, but the poor child. This anxious, silent, displaced little girl, I suspected, needed me more than her parents could possibly imagine."
Nick's previous wife died in mysterious circumstances and the traumatised Felicity, who was very close to her mother, suffers from selective mutism. Terrified by her step-mother's efforts to force her intoa regimented life of rules and appropriateness, she only begins to emerge from her isolation through her bond with Dee. They share a fascination with the echoes and relics of the past, and, when Christmas comes, Dee's stocking fillers for her include "a hag stone I discovered many years ago on a beach in Galloway, a glass eye and a weasel's skull that I'd found in a junk shop in Banbury, and the witch's tooth in its leather ring box."
The novel's mysteries can only be grasped by a breaking through, an impulsive ability to penetrate past lies. It's only possible to move forward if you can free yourself from the constraints of rigid rules and preconceptions. Salvation lies in the humanly eccentric, emotionally honest, adventurous impulses that are embodied in the central relationships of the novel – not just between Dee and Felicity, but between the two of them and another of the story's misfits, the 'house detective' Linklater, who is engaged to write the history of the Master's Lodgings, a man with an intuitive understanding that allows him to forge an immediate bond with Felicity. His extraordinary exuberance is apparent from the time he arrives in a flurry of Dickensian eccentricity:
"…a tall man stumbled backwards, his body rising like a tent pole from a flapping overcoat. As he opened his mouth, the Chapel bell let out a single, sonorous clang –half past the hour. He looked theatrically startled and blinked at the murky sky through a crooked pair of round glasses. A gust of wind whooshed at him then, sucking at the papers he held under one arm, puffing his hair this way and that. Although he was technically standing still, everything about him seemed to be twitching, like a time-lapse film of a growing plant."
Before Felicity's disappearance, the three of them together explore Oxford's twisting alleyways and ancient graveyards, "its book tunnels and secret passages, its turrets and spires and wild, hidden graveyards…" These marginalised characters are at the heart of the book's themes, sharing a love and vitality that is a world apart from the ambitious, hierarchical college life of Nick and Mariah.
As a detective novel, Magpie Lane centres on the mysterious disappearance of Felicity and the questions that linger over the death of Nick Law's first wife.  But it is about much more than this. Unfailingly suspenseful, it is also a touching, lovingly told story of a search for the truth of past losses and for redemptive human connections.
William Boyle, A Friend is a Gift You Give Yourself (2020)
Reviewed by Lee Horsley
William Boyle's A Friend is a Gift You Give Yourself is an immensely enjoyable neo-noir road trip, with stolen mob money, machine guns, car chases, a psycho with a sledgehammer and plentiful mayhem. It's a hair-raising ride, but it's really the offbeat, funny, deeply affectionate representation of friendship – the bonds formed by three tough, eccentric old women – that makes it one of the most memorable reads of the year.
The novel opens with Rena Ruggiero, a sixty-year old widow, sitting around in the Brooklyn house she grew up in, remembering the day of the mob hit on her husband and wishing she could reconnect with her daughter Adreinne. When the doorbell rings, she finds her eighty-something neighbour Enzio standing on her doorstep with his skeevy smile, pressing her to come watch a movie at his house – where he exceeds her worst expectations by putting on some steamy porn and popping a blue pill:
"And then he's smiling and his hand is on her waist…'I'm about ready for some love,' he says. 'Aren't you?' She lifts the ashtray over her head and then thwacks him across the head with it, hard as she can…He crumples to the floor. 'Jesus Christ,' Rena says to no one. 'I told him not to touch me.'"
Rena takes off in Enzio's "near-mint 1962 Chevy Impala", thinking it might be possible to take refuge with her estranged daughter and fifteen year old granddaughter, Lucia, in the Bronx: "Come to them out of desperation. They won't be able to refuse her." When Adrienne turns her away at the door, she is instead taken under the wing of the next-door neighbour, the splendid Wolfie Wolfstein, a one-time grifter and Golden Age porn star:
"Before turning to the hustle for a living, she did a satellite radio show for four years, The Naughty List…She was famous with men of a certain age. Out in L.A.– the Valley – she made pornos in the seventies and early eighties…All of it pre-AIDS crisis. She was known for her all-American body. Luscious Lacey, they called her… Sixty-four movies over a ten-year stretch."
With mobsters after them, Rena, Wolfie and her granddaughter go on the run together, and Wolfie suggests they might be able to lie low with her old friend Mo Phelan, who had been in some porn movies with Wolfie and goes "way, way back" with her:
"Mo's at the door as they walk up the stoop. 'Welcome, welcome, welcome,' she says, guiding them inside to the ground floor landing. She's wearing lots of makeup and crimson lipstick, like she's been having some kind of glamour night, and her bra is lacy and expensive-looking.…Mo was in movies with Wolfstein is mainly what Rena remembers Wolfstein telling her, so her mind goes to the two of them doing the kinds of things she saw briefly on the screen at Enzio's."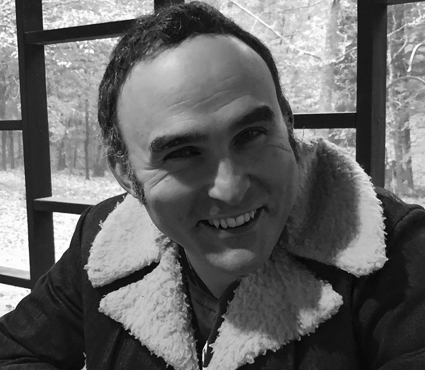 Though Mo has welcomed them with open arms, hiding out at her house seems unlikely to save them for long, with assorted psychos still in pursuit and a lot of stolen money and a machine gun in the trunk of their car. Boyle keeps us on the edge of our seats as they desperately try to work out how they will protect themselves.
In interview, Boyle says that when he was in high school Elmore Leonard was one of his greatest writing heroes. Readers of A Friend In Need will be very much reminded of Leonard – his fast-moving plots that fizz with lively dialogue and vivid personalities. Boyle dedicates the novel to his grandparents, hoping they "would have gotten a kick out of it." One somehow feels sure they would have done – as will anyone who enjoys the blackly comic adventures of an unforgettable cast of characters.
Michael Farris Smith, Blackwood (2020)
Review by Lee Horsley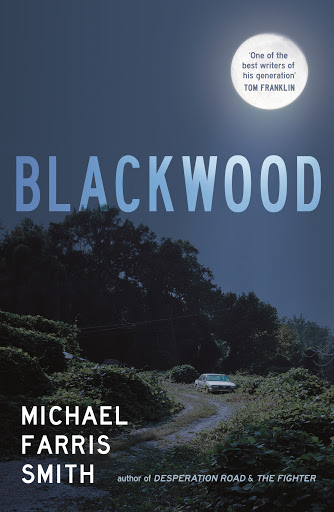 Blackwood, Michael Farris Smith's fifth novel, is Southern gothic noir at its most bleak and haunting. Beautifully written, moving and darkly disturbing, it takes us to a strange and frightening valley that is covered by impenetrable vines. All around the impoverished town of Red Bluff, Mississippi, the land is being swallowed by kudzu vines, its outskirts inexorably becoming part of this treacherous, malevolent world. Along with decaying houses and other human relics, the vines seem to have wound themselves around the pain of past lives, bringing madness and despair to anyone who ventures too far inside:
"The rich green depths and rises and falls of trees and hillsides long since conquered by the timeless vines. The man gazed across the great expanse of green, captivated by the reach of the kudzu… The vines hanging down from clumps of forest that served like some curtain into the backstage world below the kudzu and into it the man entered… The kudzu canopy above blocking out the moonglow and in the dark he heard things and imagined more things and he hurried back out to the road. His breaths quicker."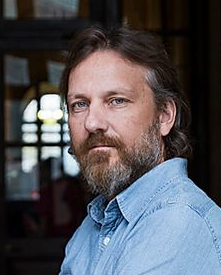 Smith says in interview (Los Angeles Review of Books) that his initial idea for Blackwood was that of a man staring across the valley and "beginning to feel like there was something from below whispering to him, beginning to feel like the vines may actually be coming for him, and how his being alone near this valley could wreak havoc on his imagination and spirit." There is a darkness that consumes the characters drawn into this fallen world. They seem to meet within it their own past sins and torments.
We first meet Smith's broken, nameless drifter when he arrives in town with a woman and child. Their "foulrunning Cadillac" will go no further and they leave it at the edge of the kudzu-covered valley. All three of them are eventually drawn into the netherworld where the man "hears whispers in the vines that drive him insane." He is a man who is tormented by the secrets of his past, most recently by his abandonment of his younger son, who has been left behind in another town. As he spirals downward in his obsessive journeys into the darkness and lurking evil of the valley, redemption seems less and less possible.
The townsfolk, too, struggle under the burden of past sins and regrets. Colburn, a junkyard sculptor who has returned to Red Bluff after twenty years, is still haunted by the trauma of his father's suicide. The well-intentioned, long-serving Sheriff Myer found the body when Colburn's father hung himself and now wonders whether the badness will ever leak out of the house where it happened. But there are new sources of badness. When twin boys vanish, Colburn is the last to see them before they are swallowed by the tangled vines of the valley. Celia, a woman loved by Colburn, also disappears. The aging Myer has the task of organising search parties to find both Celia and the twins – "no one knowing anything and as the days went by without answers. The suggestions of a greater evil lurking about in the depths of the valley."
Blackwood is an extraordinary novel, the kind that lingers in your mind long after you have finished reading it. Crimeculture also wants to recommend both The Fighter (2018) and Desperation Road (2017). Smith says in his LARB interview that the younger son abandoned by the drifters before the beginning of Blackwood is the boy who, when he grows to manhood, becomes the protagonist of The Fighter. It's a fascinating character link. Above all, though, Smith's novels are linked by his compassionate vision, his distinctive voice and the poetic power of his style.