Crimeculture's Lockdown Favourites
Over the coming weeks, Crimeculture will be reviewing a selection of the outstanding crime novels we have enjoyed during the 2020 lockdown.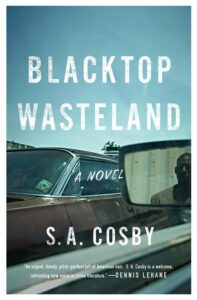 S. A. Cosby, Blacktop Wasteland (2020)
Review by Lee Horsley
Blacktop Wasteland, S. A. Cosby's wonderful debut novel, is in a class with the very best of hard-boiled noir writing. Unfailingly gripping, it is written in vivid prose that's both tough and lyrical. Even in the most bone-crunchingly brutal scenes of this high-octane heist novel, action is imbued with emotional force and dark humour. No matter how fast we're moving, we simultaneously experience the protagonist's thoughts and feelings:
"He pushed the van up to 65 and aimed it at the ramp. He felt it then. Felt it for the first time tonight. The high, the juice, the symbiotic relationship between man and machine. The thrumming vibrations that worked their way up from the blacktop through the wheels and suspension system like blood moving through veins until it reached his hands. The engine spoke to him in the language of horsepower and RPMs. It told him it yearned to run."
Cosby's novel is a searching, highly individual character study that is at the same time a wider reflection on the adversity faced by African Americans living in the Southern states.  Interviewed by the LA Times, Cosby, who is from Southeastern Virginia, talks about the external tensions created by "prejudice in all directions". Urbanites, he suggests, often assume fellow African Americans living in the South must be more submissive and compliant: "And so you've got Black people looking at you with disdain. You've already got white people looking at you like that. There's a certain mental toughness that it takes to live in the cradle of the Confederacy."
In the same interview, Cosby laments the shortage of strong Black Southern characters in crime fiction – of characters able to "stand on their own two feet and create their own destiny." Blacktop Wasteland admirably helps to remedy this shortage, amply demonstrating Cosby's ability to create nuanced and complex characters. His protagonist, Beauregard 'Bug' Montage, has great warmth and vitality, together with an acute awareness of the need to struggle with his divided nature. His superlative skills as a driver and mechanic are inherited from his father, Ant, whose criminal activities forced him to go on the run when his son was still a teenager. Now grown up, Beauregard is determined to put crime behind him, to be a better family man than his father, and when the novel opens he is struggling to support his wife and children by running a down-on-its-luck car repair business. But as financial pressures overwhelm him, he feels irresistible pressure to return to the Life. Will he be able to repay his debts by again becoming a wheelman, or will he, in doing so, risk losing the family he wants to protect?
"You know, I used to think of myself as two people. Sometimes I was Bug and sometimes I was Beauregard. Beauregard had a wife and children. He ran a business and went to school plays. Bug . . . well, Bug, he robbed banks and armored cars. He drove 100 miles per hour on hairpin curves. Bug threw the people who killed his cousin in a car crusher. I tried to keep them apart, Beauregard and Bug. But my Daddy was right. You can't be two types of beasts."
The action of the novel is propelled by hardship and kept in motion by betrayals, violent revenges, sudden losses and reversals. His father, who has never returned, is both a hero to him and a stark warning of what can happen to a man who gets drawn into the world of crime and vengeance. When he rides around in Ant Montage's old car, the Duster, Beauregard tries to tell himself that it doesn't matter that the man he loved was really a gangster and a bad father: "'But it does matter. It matters a lot. If your Daddy is the kind of man that can run people down with a car or shoot 'em in the face, it matters a whole hell of a lot. And there's not enough love in the world to change that.'"
Blacktop Wasteland is a stunning novel, rewarding in every way. Hugely recommended.
John Hornor Jacobs, Murder Ballads and Other Horrific Tales (2020)
Review by Kate Horsley
"Tin-roofed and directly across the highway from a rank smelling bayou, the tonk was called The Shoehorn and had a down-beat blues band garbling Muddy Waters and Albert King while middle-aged women, running to fat, waited tables in outfits that were obvious knock-offs of Hooters waitress garb, the porn star roller derby look. The building buzzed with neon beer signs and stank of stale beer and cigarette smoke but promised to stay open until 5 a.m. When the band stopped for a break, Efram heard the cicadas whirring heavily in cypress beyond the thin walls. A patron fed dollar bills into the jukebox, breaking the drone of insects…"

'El Dorado', Murder Ballads
I have read all of John Hornor Jacobs' books and am a big fan of his unique brand of lyrical horror. Accordingly, I was thrilled to get my hands on this superb collection of 10 short stories, bursting with originality and eerie gothic vibes.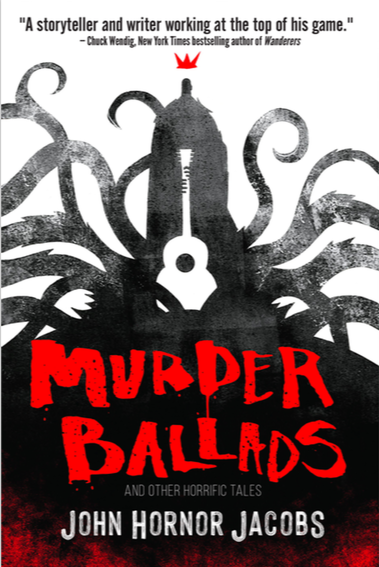 Jacobs shows great versatility in the range of themes, settings and genres he explores here, from the lush world of southern bluesmen – familiar to fans from previous books, Southern Gods & A Lush and Seething Hell – to sci-fi ('Single, Singularity', 'Verrata') to cosmic horror with Vikings, 'The Children of Yig', to Bayou noir, 'El Dorado', (quoted above) and the melancholy, Ozarks-set, Odyssey-inspired 'Ithaca'.
The last two mentioned – 'El Dorado' and 'Ithaca' – were probably my favourites in the collection. The sense of place and time they create sucks the reader immersively into the world of the stories' respective protagonists, so that your heart breaks all the harder when those protagonists collide with the darkness lurking all around.
Like an Easter Egg cunningly concealed in the twisted landscape of a video game, the final tale, 'Murder Ballads' yields special thrills for fans of Southern Gods, but you'll have to read it yourself to see why…
John Hornor Jacobs, A Lush and Seething Hell (2019)
Review by Kate Horsley
"We are bits of meat in a watery broth. Sweet-tallow candles waiting to be lit. Pleasure makes us numb, stupid, inert. Pain sparks our wicks. The light and scent of pain—the greater the better—draws the attention of the mighty. The prodigious. The vast and numberless. And that frisson, between the pain, the effluent release of it, and the intention of the deliverers and emissaries, brings forth the miasma."

A Lush and Seething Hell
A Lush and Seething Hell is a beautifully constructed two-novella volume. The first novella, The Sea Dreams It Is the Sky, is a poetic meditation on the nature of artistry and radical politics set in the imaginary South American country of Magera. Isabel, an exiled teacher meets infamous exiled poet, Avendano, who has just escaped torture and imprisonment. Left to complete the poet's translation of an obscure text, Isabel plunges ever deeper into the hidden horrors of her homeland.
The second novella, My Heart Struck Sorrow, is a stunning piece of psychological horror, following haunted music researcher, Cromwell, as he explores the recordings that form part of an old woman's estate. This modern-set narrative is shot through with the history of a shadowy and disturbing tradition of jazz accessed via the mysterious audio archive, an atmospheric context which I absolutely loved. I was right there with Cromwell in the last pages of the book and the heart-breaking ending completely blew me away.
John Hornor Jacobs is a weird fiction author who writes lush, gorgeous prose to rival the best literary authors. His two latest books, A Lush and Seething Hell and Murder Ballads, are beguiling reads, by turns horrifying and heart-breaking.
The Haunting Landscapes of Nordic Noir
Reviewed by Lee Horsley
Some of the most riveting Scandinavian crime fiction torments its characters with the disorienting effects of an isolated, threatening landscape. Crimeculture highly recommends four of the best recent Nordic noir novels (translated into English 2014-16), each of which enthrals readers with the peculiar power of such a setting: Agnes Ravatn's The Bird Tribunal, Ragnar Jonasson's Snowblind, Yrsa Sigurdardottir's Why Did You Lie? and Antti Tuomainen's Dark as My Heart.
Other countries can, of course, provide crime writers with similarly inhospitable terrain – environments so remote and hostile that they inflict their own kind of psychological damage. Crimeculture has recently, for example, reviewed Jane Harper's The Dry, a powerful novel in which human greed and hatred play out amidst the devastating effects of a drought that is destroying an entire Australian community. In the UK, Graeme Macrae Burnet's literary thriller, His Bloody Project, brilliantly represents a brutally controlled crofting community in the nineteenth-century Scottish Highlands, a place so cut off that escape seems impossible.
Scandinavian crime writers, however, have proven themselves exceptionally adept at fictionally exploiting the rich resources of their native landscapes. A few years ago, a piece in The Economist (Sept 2012) ascribed the success of the Nordic crime-writing boom in part to the novelty of the locations, to writers' ability to provide "a sense of place—the more distinctive and unusual the better." But in truth the strength of Scandinavian locations is less to do with novelty than with sheer evocative power – with the pressure of the elements and the extremities of experience endured in places far removed from conventional society. The novels reviewed here – from Norway, Iceland and Finland – give us harrowing dramas enacted in darkly mysterious forests and secluded estates overlooking spectacular fjords, on rocky stacks in a raging sea, or on the sea's edge in a fishing village made inaccessible by blizzards, mountains and avalanches. In all four novels, the drama is intensified by the claustrophobic sense of entrapment somewhere so isolated that the conditions of ordinary life no longer apply.
Agnes Ravatn's The Bird Tribunal
In Agnes Ravatn's dark, mesmerising novel, The Bird Tribunal (published in Norway 2013, trans 2016), the natural world both surrounds and drives the tense human drama. Escaping her past life, Allis Hagtorn takes a job housekeeping and gardening for Sigurd Bagge – a strangely silent man living on the edge of a silent forest above an isolated Norwegian fjord. As she sets about trying to bring his disorderly garden under control, she begins to believe that she might also transform herself, that "there was salvation to be found."
But salvation is no simple matter, and Ravatn's taut, haunting prose generates a mounting sense of dread. She draws together several strands of myth and gothic archetype, with hints of Bluebeard and Rebecca. But most of all, emanating from the landscape itself, there are the themes and emotions of Norse mythology – salvation and transformation, death, guilt and retribution. The fjord and forest are beautiful but increasingly charged with sinister meanings.
As Allis walks into the "silent forest of roots and pinecones", she feels almost entirely separated from the outside world: "living here was like ceasing to exist," except in an increasingly menacing world of shared stories. Bagge recounts his dream of an ominous bird tribunal convening in the depths of the forest, a vision of twelve judges in bird masks sitting in silence and condemning him, charging him with "skemdarvig", a crime so vile that no atonement is possible. Allis in turn tells him the story of Balder and Loki, of violence, revenge and the potential for evil: "Old guilt… destroyed by fire and swallowed by the sea," a dragon that "sweeps through the air…with human corpses nestled among its feathers".
Who are Bagge and Allis in this mythic world? Our sense of foreboding grows as the story is ever more strongly infused by the threatening, hallucinatory imagery of the ancient Eddas. The Bird Tribunal is a fascinating novel that lingers in readers' minds long after they have finished reading.
Ragnar Jonasson's Snowblind
The five novels of Ragnar Jonasson's Dark Iceland series, which debuted in Iceland in 2010, have received much deserved critical acclaim since the first English translations began to appear: Snowblind and Nightblind in 2015, Blackout, Rupture and Whiteout in 2016-17.
In the gripping Snowblind, he creates the setting that defines the essence of his vision of "Dark Iceland" – the tiny, isolated fishing village of Siglufjördur, "at the edge of the northern ocean," as stunningly beautiful as it is claustrophobic, surrounded by a ring of mountains and inaccessible for much of the year except via a small tunnel. The protagonist, a young outsider and rookie policeman, Ari Thor, proves himself capable of patient investigation and sharp insights, but is hampered throughout by his sense of not belonging to this alien environment: "He felt like a stranger… a traveller who had forgotten to buy a return ticket."
A translator of Agatha Christie, Jonasson is skilled in the construction of an absorbing mystery story. Snowblind, like the later novels in the Dark Iceland series, is an exceptionally well-crafted piece of classic detective fiction, with the enclosed space of Siglufjördur providing a circumscribed cast of characters, harbouring secrets and concealing hidden connections that must be uncovered if the mystery is to be solved. What most distinguishes Jonasson's series, however, is an environment that throughout the novel applies its own frightening and unpredictable pressures.
Iceland has provided some of the most haunting and life-threatening landscapes of contemporary crime fiction. Even the Reykjavík-set novels of Arnaldur Indridason's are shadowed by memories of lives lost in the mountains and frozen fjords. In Jonasson's Snowblind, the destructive depths of the Icelandic winter – freezing darkness, blizzards, avalanches – all reinforce the sense of dangerous entrapment. When a murder is committed the scene of the crime has a perverse beauty: the "blood-red snow that formed a halo" around the body of the victim. The mysteriousness of the scene adds to our sense of the inhuman otherness of a savage natural world that thwarts Ari Thor's investigation at every turn: "This peaceful little town was being compressed by the snow, no longer a familiar winter embrace but a threat like never before." Read more, including our reviews of Yrsa Sigurdardottir's Why Did You Lie? and Antti Tuomainen's Dark As My Heart.