William Boyle, A Friend is a Gift You Give Yourself (2020)
Reviewed by Lee Horsley
William Boyle's A Friend is a Gift You Give Yourself is an immensely enjoyable neo-noir road trip, with stolen mob money, machine guns, car chases, a psycho with a sledgehammer and plentiful mayhem. It's a hair-raising ride, but it's really the offbeat, funny, deeply affectionate representation of friendship – the bonds formed by three tough, eccentric old women – that makes it one of the most memorable reads of the year.
The novel opens with Rena Ruggiero, a sixty-year old widow, sitting around in the Brooklyn house she grew up in, remembering the day of the mob hit on her husband and wishing she could reconnect with her daughter Adreinne. When the doorbell rings, she finds her eighty-something neighbour Enzio standing on her doorstep with his skeevy smile, pressing her to come watch a movie at his house – where he exceeds her worst expectations by putting on some steamy porn and popping a blue pill:
"And then he's smiling and his hand is on her waist…'I'm about ready for some love,' he says. 'Aren't you?' She lifts the ashtray over her head and then thwacks him across the head with it, hard as she can…He crumples to the floor. 'Jesus Christ,' Rena says to no one. 'I told him not to touch me.'"
Rena takes off in Enzio's "near-mint 1962 Chevy Impala", thinking it might be possible to take refuge with her estranged daughter and fifteen year old granddaughter, Lucia, in the Bronx: "Come to them out of desperation. They won't be able to refuse her." When Adrienne turns her away at the door, she is instead taken under the wing of the next-door neighbour, the splendid Wolfie Wolfstein, a one-time grifter and Golden Age porn star:
"Before turning to the hustle for a living, she did a satellite radio show for four years, The Naughty List…She was famous with men of a certain age. Out in L.A.– the Valley – she made pornos in the seventies and early eighties…All of it pre-AIDS crisis. She was known for her all-American body. Luscious Lacey, they called her… Sixty-four movies over a ten-year stretch."
With mobsters after them, Rena, Wolfie and her granddaughter go on the run together, and Wolfie suggests they might be able to lie low with her old friend Mo Phelan, who had been in some porn movies with Wolfie and goes "way, way back" with her:  
"Mo's at the door as they walk up the stoop. 'Welcome, welcome, welcome,' she says, guiding them inside to the ground floor landing. She's wearing lots of makeup and crimson lipstick, like she's been having some kind of glamour night, and her bra is lacy and expensive-looking.…Mo was in movies with Wolfstein is mainly what Rena remembers Wolfstein telling her, so her mind goes to the two of them doing the kinds of things she saw briefly on the screen at Enzio's."
Though Mo has welcomed them with open arms, hiding out at her house seems unlikely to save them for long, with assorted psychos still in pursuit and a lot of stolen money and a machine gun in the trunk of their car. Boyle keeps us on the edge of our seats as they desperately try to work out how they will protect themselves.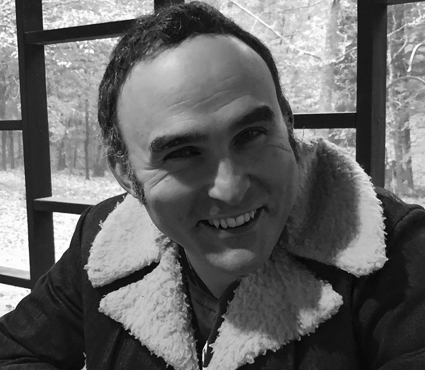 In interview, Boyle says that when he was in high school Elmore Leonard was one of his greatest writing heroes. Readers of A Friend In Need will be very much reminded of Leonard – his fast-moving plots that fizz with lively dialogue and vivid personalities. Boyle dedicates the novel to his grandparents, hoping they "would have gotten a kick out of it." One somehow feels sure they would have done – as will anyone who enjoys the blackly comic adventures of an unforgettable cast of characters.