John Hornor Jacobs, Murder Ballads and Other Horrific Tales (2020)
Review by Kate Horsley
"Tin-roofed and directly across the highway from a rank smelling bayou, the tonk was called The Shoehorn and had a down-beat blues band garbling Muddy Waters and Albert King while middle-aged women, running to fat, waited tables in outfits that were obvious knock-offs of Hooters waitress garb, the porn star roller derby look. The building buzzed with neon beer signs and stank of stale beer and cigarette smoke but promised to stay open until 5 a.m. When the band stopped for a break, Efram heard the cicadas whirring heavily in cypress beyond the thin walls. A patron fed dollar bills into the jukebox, breaking the drone of insects…"

'El Dorado', Murder Ballads
I have read all of John Hornor Jacobs' books and am a big fan of his unique brand of lyrical horror. Accordingly, I was thrilled to get my hands on this superb collection of 10 short stories, bursting with originality and eerie gothic vibes.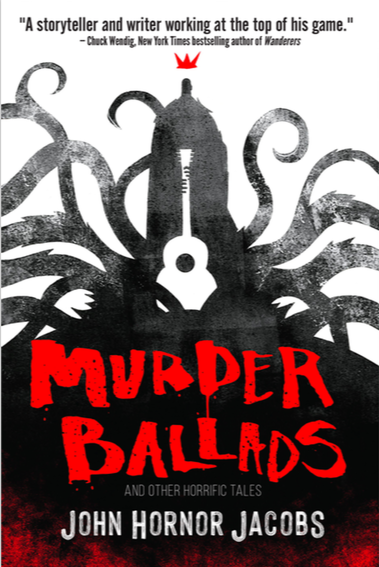 Jacobs shows great versatility in the range of themes, settings and genres he explores here, from the lush world of southern bluesmen – familiar to fans from previous books, Southern Gods & A Lush and Seething Hell – to sci-fi ('Single, Singularity', 'Verrata') to cosmic horror with Vikings, 'The Children of Yig', to Bayou noir, 'El Dorado', (quoted above) and the melancholy, Ozarks-set, Odyssey-inspired 'Ithaca'.
The last two mentioned – 'El Dorado' and 'Ithaca' – were probably my favourites in the collection. The sense of place and time they create sucks the reader immersively into the world of the stories' respective protagonists, so that your heart breaks all the harder when those protagonists collide with the darkness lurking all around.
Like an Easter Egg cunningly concealed in the twisted landscape of a video game, the final tale, 'Murder Ballads' yields special thrills for fans of Southern Gods, but you'll have to read it yourself to see why…

John Hornor Jacobs, A Lush and Seething Hell (2019)
Review by Kate Horsley
"We are bits of meat in a watery broth. Sweet-tallow candles waiting to be lit. Pleasure makes us numb, stupid, inert. Pain sparks our wicks. The light and scent of pain—the greater the better—draws the attention of the mighty. The prodigious. The vast and numberless. And that frisson, between the pain, the effluent release of it, and the intention of the deliverers and emissaries, brings forth the miasma."

A Lush and Seething Hell
A Lush and Seething Hell is a beautifully constructed two-novella volume. The first novella, The Sea Dreams It Is the Sky, is a poetic meditation on the nature of artistry and radical politics set in the imaginary South American country of Magera. Isabel, an exiled teacher meets infamous exiled poet, Avendano, who has just escaped torture and imprisonment. Left to complete the poet's translation of an obscure text, Isabel plunges ever deeper into the hidden horrors of her homeland.

The second novella, My Heart Struck Sorrow, is a stunning piece of psychological horror, following haunted music researcher, Cromwell, as he explores the recordings that form part of an old woman's estate. This modern-set narrative is shot through with the history of a shadowy and disturbing tradition of jazz accessed via the mysterious audio archive, an atmospheric context which I absolutely loved. I was right there with Cromwell in the last pages of the book and the heart-breaking ending completely blew me away.
John Hornor Jacobs is a compelling weird fiction author who writes lush, gorgeous prose to rival the best literary authors. His two latest books, A Lush and Seething Hell and Murder Ballads, are beguiling reads, by turns horrifying and heart-breaking.