M. W. Craven, The Botanist (2022)
Reviewed by Lee Horsley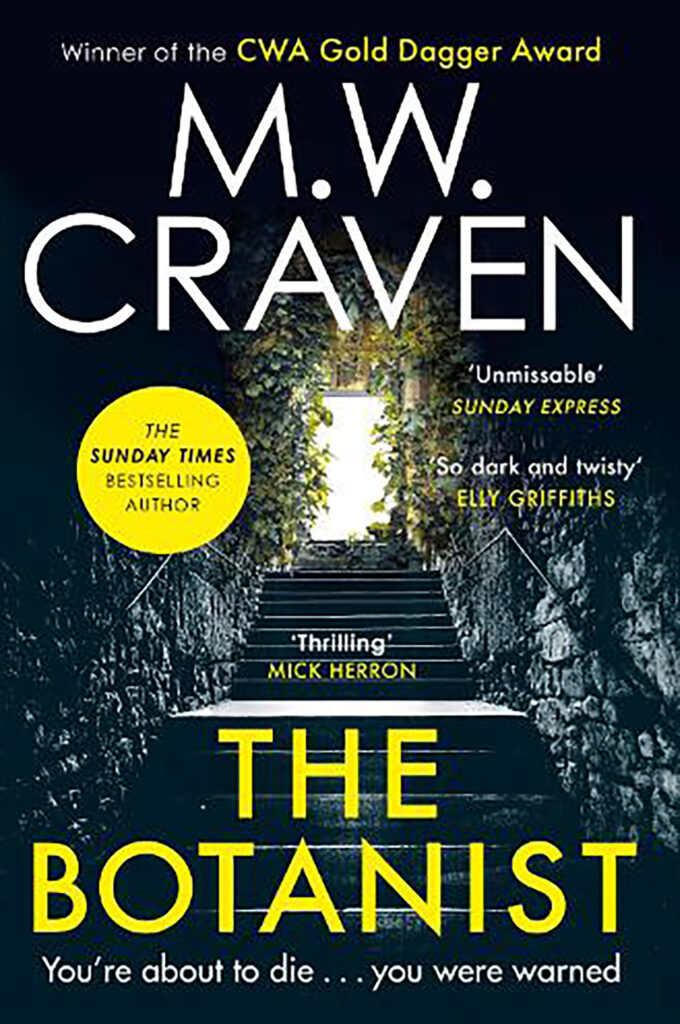 M.W. Craven's The Botanist is a tense, gripping mystery, combining strong characterisation with intricate plotting. The novel plays with familiar ingredients of the classic detective story – locked rooms, mysterious poisons – but Craven brings them together with both originality and dexterity. For a start, he offers us not one but two locked room mysteries:
"We have a killer in London who warns his victims yet still gets to them, and up north someone murdered Estelle Doyle's father and walked away from the crime scene without treading on a single fucking snowflake."
Although the challenges set by the puzzle of death in locked rooms and by the machinations of the novel's methodical poisoner draw on traditional devices, the plot is very much intertwined with contemporary preoccupations. Those targeted by the killer include, for example, a Pharma Bro who uses corrupt commercial practices to buy up the rights to essential medicines and media celebrities with appalling views on women and immigrants. The public face of the poisoner's scheme is integrally related to the modern media world, within which toxic personalities can flourish, disseminating their poisonous views and profiting from others' weakness.
The mystery is permeated by Gothic darkness, with a killer so devious and skilled that it seems impossible to protect his victims, in spite of the fact that he forewarns them of their doom. Their murders are imagined in macabre detail, as poisons insidiously invade internal organs, bringing grotesque deaths however securely the chosen victims have tried to hide themselves.
The Botanist is the fifth novel in Craven's hugely successful Washington Poe series, which began in 2018 with The Puppet Show, and part of our engagement with the narrative is to do with the fact that the central characters in Poe's life are not immune from the danger. Like the earlier books, The Botanist appeals to us by a wonderful combination of gruesome crime plots with the warmth and affectionate humour of Detective Sergeant Poe's friendships with his "dream team". The most important relationship in the series is between the abrasive, uncompromising Poe and the sweetly guileless genius Tilly Bradshaw, a civilian analyst whose technical wizardry becomes indispensable to every investigation. But the team as a whole is integral to both the appeal and the suspense of the series:
"Anyone who knows how to read behind the headlines will know who you prefer to work with. Tilly's Mole People, as you call them, Superintendent Nightingale—' 'And Estelle Doyle,' Poe finished for her. 'What if someone wanted to mess with the dream team. To borrow a saying from my baseball-crazy father: what if someone wanted to bench one of your star players?'"
It's a 'what if' that keeps us hooked to the very end. For any of our readers who haven't yet enjoyed Craven's Poe and Tilly novels, we highly recommend the whole series.