Lucy Atkins, Magpie Lane (2020)
Review by Lee Horsley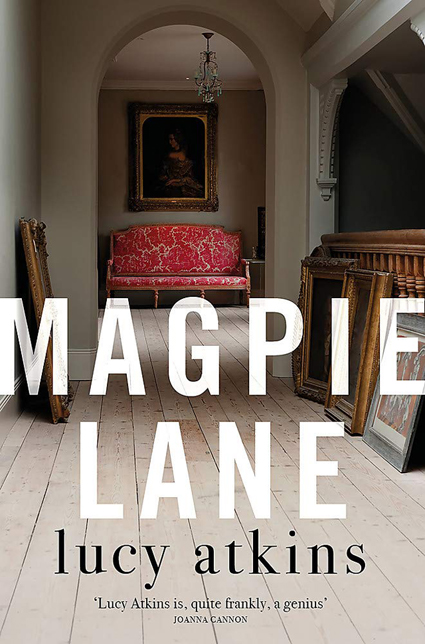 Magpie Lane is Lucy Atkins' fourth novel. Like her previous novels – particularly the superb The Night Visitor (2017) – it is a twisty, completely engrossing, suspenseful and stunningly well-written psychological thriller.  Set mainly in Oxford, it creates a richly detailed sense of place, often summoning up eerily gothic echoes of lost loved ones and of the insidious erasure of the past by a self-satisfied present encroaching on the lives and memories that old places once contained.  
The events of Magpie Lane, including the mysterious disappearance of the Master's young daughter, take place in the midst of the chaotic, cacophonous updating of the Master's Lodging, a renovation driven forward by Nick Law, the new Master of the College, and his unhinged Danish wife Mariah, a wallpaper specialist. Both Nick and Mariah are brilliant at what they do, but are at the same time obtuse and deficient in nearly every other respect. They see themselves as the harbingers of the future, painting and papering over all of the old woodwork, and their transformation of the College is emblematic. Dee, the nanny, reflects that "the wallpaper seemed to represent everything that was wrong with Nick and Mariah – the extravagance of their rarified life; their substanceless parenting; their artifice and concealment."
Their determined process of modernization will ultimately extend to the furthest reaches of the house, including a mysterious locked room reputed to have been a priest hole. This tiny space, which may or may not be haunted, is a source of fascination to Nick's eight-year-old daughter, Felicity, and to her Scottish nanny, Dee, who agrees to look after the little girl when she realizes the utter dysfunctionality of Nick and Mariah: "As Mariah beamed manically at me, it occurred to me that it was not the adults who desperately needed my help, but the poor child. This anxious, silent, displaced little girl, I suspected, needed me more than her parents could possibly imagine."
Nick's previous wife died in mysterious circumstances and the traumatised Felicity, who was very close to her mother, suffers from selective mutism. Terrified by her step-mother's efforts to force her intoa regimented life of rules and appropriateness, she only begins to emerge from her isolation through her bond with Dee. They share a fascination with the echoes and relics of the past, and, when Christmas comes, Dee's stocking fillers for her include "a hag stone I discovered many years ago on a beach in Galloway, a glass eye and a weasel's skull that I'd found in a junk shop in Banbury, and the witch's tooth in its leather ring box."
The novel's mysteries can only be grasped by a breaking through, an impulsive ability to penetrate past lies. It's only possible to move forward if you can free yourself from the constraints of rigid rules and preconceptions. Salvation lies in the humanly eccentric, emotionally honest, adventurous impulses that are embodied in the central relationships of the novel – not just between Dee and Felicity, but between the two of them and another of the story's misfits, the 'house detective' Linklater, who is engaged to write the history of the Master's Lodgings, a man with an intuitive understanding that allows him to forge an immediate bond with Felicity. His extraordinary exuberance is apparent from the time he arrives in a flurry of Dickensian eccentricity:
"…a tall man stumbled backwards, his body rising like a tent pole from a flapping overcoat. As he opened his mouth, the Chapel bell let out a single, sonorous clang –half past the hour. He looked theatrically startled and blinked at the murky sky through a crooked pair of round glasses. A gust of wind whooshed at him then, sucking at the papers he held under one arm, puffing his hair this way and that. Although he was technically standing still, everything about him seemed to be twitching, like a time-lapse film of a growing plant."
Before Felicity's disappearance, the three of them together explore Oxford's twisting alleyways and ancient graveyards, "its book tunnels and secret passages, its turrets and spires and wild, hidden graveyards…" These marginalised characters are at the heart of the book's themes, sharing a love and vitality that is a world apart from the ambitious, hierarchical college life of Nick and Mariah. 
As a detective novel, Magpie Lane centres on the mysterious disappearance of Felicity and the questions that linger over the death of Nick Law's first wife.  But it is about much more than this. Unfailingly suspenseful, it is also a touching, lovingly told story of a search for the truth of past losses and for redemptive human connections.