The Highwaymen (2019), Netflix, directed by John Lee Hancock, with Kevin Costner (Frank Hamer) and Woody Harrelson (Maney Gault)
Review by Allan L Branson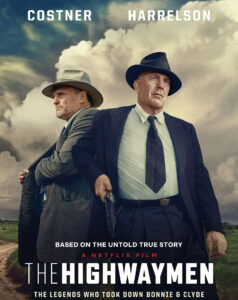 Suffice it to say that when it comes to cowboys, southern gentlemen and bounty hunters, Kevin Costner fits the bill. I believe it all started with Dances with Wolves and then all that followed – Open Range, Wyatt, Hatfields and McCoys as well as the recent television series Yellowstone.
Kevin Costner is often touted as the Gary Cooper of his age. A man who takes on the mantle of the "strong silent type," an American archetype to be sure. His previous roles have often been that of a man of few words, psychologically tortured by past deeds. In this role, however, there is less mental trauma and more exhaustion at the thought of returning to his former life. While Costner's may be a man of few words, you'd be advised to listen. Costner in many of his previous roles was a man forced to employ skills he'd rather have forgotten. Think Clint Eastwood in Unforgiven, or more appropriately Costner's character, Charley Waite, in Open Range.
This movie is so atmospheric, hot, steamy and humid that you will be smacking mosquitoes and wiping sweat from your brow. The tension builds slowly, yet there is enough character development for you to care about all involved. Although the outcome of the criminal duo known as Bonnie and Clyde is matter of historic record, true filmmaking is about the storytelling, new bits of information played out before your eyes with a buildup that is itself artistry. The scenes encompass a dirt poor, racially divided rural southwest, the backrooms of Texas power and two outlaws whose remorseless pillaging and murder are left unchecked until the finale.
Frank Hamer (Costner) is a former Texas Ranger. The motto "One riot, One Ranger" speaks volumes. That legendary law enforcement agency was disbanded by the governor, prior to Bonnie Parker and Clyde Barrow's reign of terror, for their less than conventional methodology. The history of the Texas Rangers is replete with legendary battles and cunning employed by special men. Men who could kill as adroitly as their quarry. And "…therein lies the rub…." As Nietzsche cautions those who fight monsters, one gets the feeling that Hamer's (Costner) monster was never really tucked away all that well. While Maney Gault's (Woody Harrelson) monster may never have existed, at least to the extent of his partner's.
While both men are former Texas Rangers, Hamer is clearly living a more comfortable lifestyle with a loving wife. Gladys Hamer (Kim Dickens) is in-touch enough with her husband's personality to know that, hesitant though he may be, Frank cannot resist his vocation: he must join in the pursuit of these desperados. Her role as the assertive wife was beautifully portrayed yet unfortunately with limited on-screen time.
A veteran of a variety of roles, Woody Harrelson still astounds once again. He is a true thespian even if unconventional by Hollywood movie star standards. He's killed zombies (Zombieland & Zombieland: Double Tap), played basketball (White Men Can't Jump) with fellow transit cop Wesley Snipes (Money Train), comedically bowled his way out of trailer parks (Kingpin), serial killed across the country (Natural Born Killers) and let another man bed his wife (Indecent Proposal). Harrelson's portrayal of Frank Hamer's partner, Maney Gault, is an emotional balance and pause button to Costner's driven character.
As Bonnie Parker and Clyde Barrow are rampaging through the southwest, like a plague, Miriam A. Ferguson, "Ma" (Kathy Bates) as she was affectionately known, was Governor of Texas. The same governor that had previously disbanded the Texas Rangers, not out of any moral misgivings but rather political uncertainty. These wanton criminals now threaten not only physical lives but political ones as well. Bates is stellar as the no non-sense, two term governor embroiled in male dominated Texas politics. To make matters worse this governor who disbanded the Texas Rangers has been urged to bring them back. Clearly for her, it was a case of "the devils you know are better than the devils you don't."
Apropos the short screen time of the terrible twosome,Emily Brobst as Bonnie, and Edward Bossart as Clyde, are both better known for their stunt double work. There is little dialogue from these faceless criminals, only shown in full gore, postmortem.
Hamer, though retired and out of shape in terms of his firearms skill set, knows that it is the resurrection of those honed skills that will make the deaths of Bonnie and Clyde a necessary and inevitable outcome. Notably the two scenes that make this clear are at the gun store and later confronting Clyde's bereft father. Mr. Barrow has sadly accepted that his son who held so much promise must be "put down." Both encounters make clear Hamer's intent and outcome for Bonnie and Clyde. If as Durkheim noted, crime is necessary because all laws are not just, death too in this case is necessary because all people do not deserve to live.
The Highwaymen is an American film in a similar vein to Michael Mann's Public Enemies, the vehicle for melding Johnny Depp into John Dillinger. The Highwaymen is about American justice, which has always been underpinned by vigilantism; it is also about Texas, the south's politics, and the Texas Rangers. The moral of the story is the same as an oft spoken line by Lone Star States' residents, "Don't mess with Texas."