Review by Kate Horsley
This week I was lucky enough to get my hands on an advanced copy of The House of Skin, a literary surrealist horror/thriller novelette by the wildly talented Karina Lickorish Quinn, published by the lovely people at Stanchion. I finished it in a single thrilling sitting and had some quite amazing nightmares afterwards!
The House of Skin is a tale of a house suffused with dread, inside which shift the unsettling friendships of a mysterious art world clique. Breathtakingly inventive, this novelette fuses the compulsive suspense of a Gothic page-turner with artfully wrought, sensuous prose. Karina Lickorish Quinn's writing bristles with wit whilst burrowing knowingly under the reader's skin. This sophisticated thriller is the very thing it dissects, a work of art that will seduce and stun you, and one that you won't soon forget!
From the publisher
Synopsis: At a gallery one night, a young sculptor meets Cyan, an art collector with a turquoise beard, a detached charm, and a wife recently dead. Bewitched by him and his posse of elegant friends, the sculptor agrees to accompany them to a party and finds herself plunged into their world of eccentric decadence. Cyan and his clique are worshipped by flocks of struggling artists, all desperate to be discovered. When Cyan invites her to complete a residency at his mansion home, the sculptor believes her big break has finally come. But what is it about the house that so unnerves her? And how much will she sacrifice for success?
You can buy advanced copies to ship in late March 2023 here: https://www.stanchionzine.com/product-page/the-house-of-skin
The House of Skin is perfect for fans of Carmen Maria Machado and Clarice Lispector.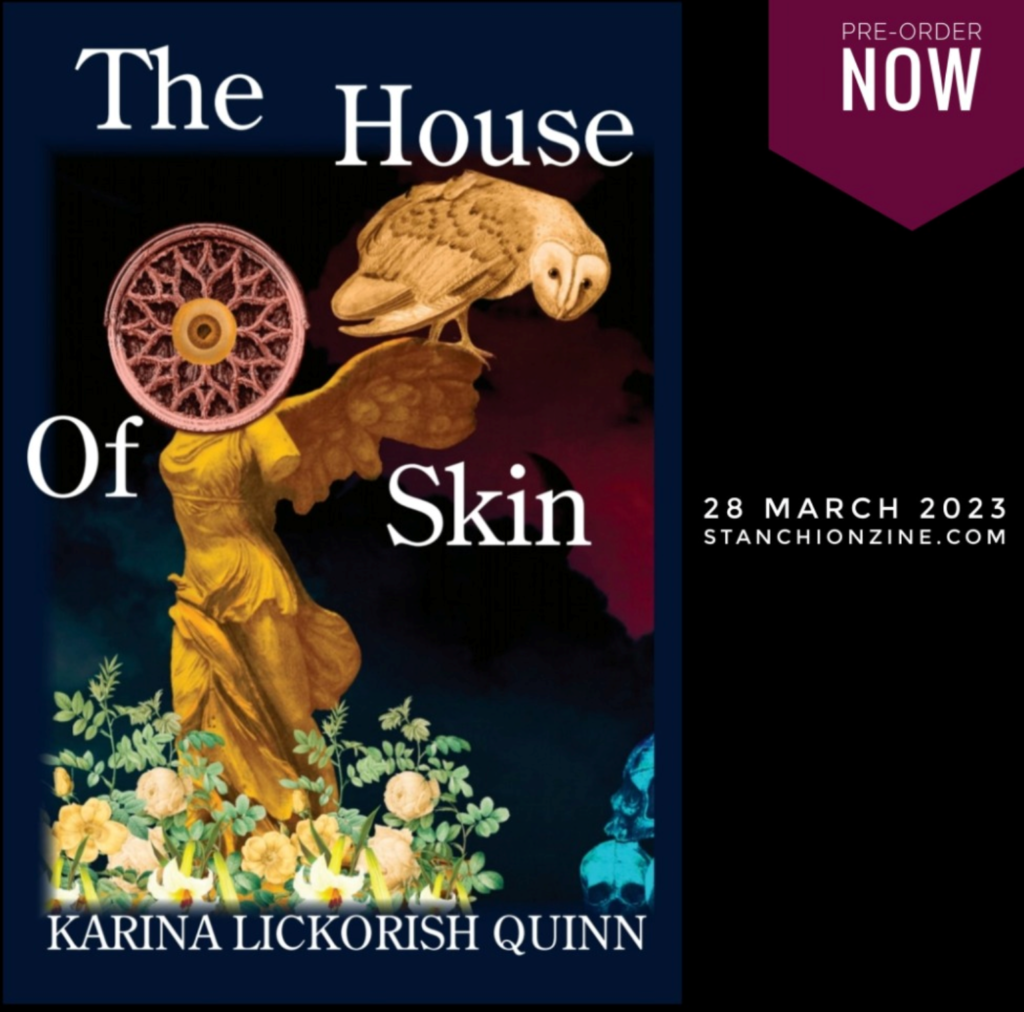 Karina Lickorish Quinn is a Peruvian-British writer whose first novel The Dust Never Settles was published by Oneworld in the UK and Commonwealth in 2021. The Spanish translation, El Polvo Nunca Se Asienta (Arde, 2022), was chosen as a summer must-read by the national Spanish TV channel La Sexta. She has been hailed by Antonio Iturbe in La Vanguardia as a 'powerful literary voice full of echoes'. Her short stories have been published in The White Review online, Asymptote, Wasafiri , Palabritas, The Journal of Latina Critical Feminism and in Un Nuevo Sol, the first anthology of British-Latinx writing. Karina Lickorish Quinn is a lecturer in Creative Writing at Royal Holloway University of London.