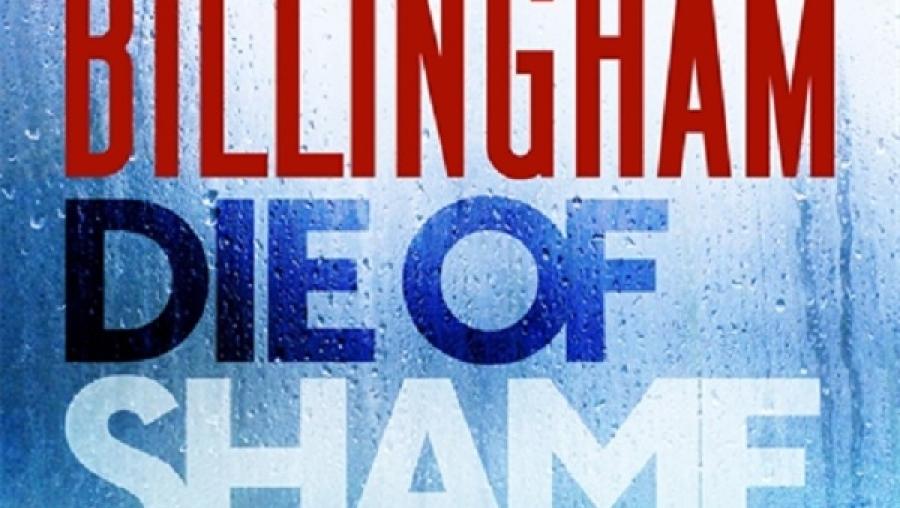 About Mark Billingham
Mark Billingham was born and brought up in Birmingham. Having worked for some years as an actor and more recently as a TV writer and stand-up comedian his first crime novel was published in 2001. Sleepyhead was an instant bestseller in the UK. It has been sold widely throughout the world and was published in the USA in the summer of 2002.  The series of crime novels featuring London-based detective Tom Thorne continued with Scaredy Cat and was followed by Lazybones, The Burning Girl, Lifeless, Buried, Death Message, Bloodline and From The Dead. The latest in the series – Good As Dead – is published in August 2011. Mark is also the author of the standalone novel In The Dark as well as a series of children's thrillers – Triskellion – written under the pseudonym Will Peterson. An acclaimed television series based on the Thorne novels was screened on Sky One in Autumn 2010, starring David Morrissey as Tom Thorne. The second series is now in production. Mark lives in London with his wife and two children. He is currently writing his next novel.
Visit his website: http://www.markbillingham.com/
About Paul Johnston
Paul Johnston was born in Edinburgh, Scotland, in 1957. His father Ronald was a successful thriller writer. Paul attended state primary school in Berwickshire and private schools in Edinburgh. He subsequently studied ancient and modern Greek at the University of Oxford, then added an M.Phil in comparative literature to his M.A.. After leaving Oxford in 1982, Paul worked for shipping companies in London and Belgium. He moved to Greece in 1987, working on a newspaper, in shipping and then teaching English. His daughter Silje was born in 1988. He started writing seriously in 1989 when he went to live on the small Aegean island of Antiparos. Paul returned to Edinburgh to do another master's degree in 1995 and then started studying for a doctorate. Paul remarried in 2005. His wife Roula is a Greek civil servant. Their daughter Maggie was born in Athens in January 2006 and their son Alexander in January 2008. Paul has come through (touch wood) two unconnected bouts of cancer in the last five years and underwent chemotherapy until November 2008. That hasn't stopped him from writing or from studying for a PhD in creative writing.He still divides his time between Scotland and Greece – having left Athens, he and his family now live in the beautiful seaside town of Nafplio in the Peloponnese. His next project is The Green Lady, the fifth Alex Mavros novel.
Visit his website: http://www.paul-johnston.co.uk/
PJ -You worked in children's TV and stand up before becoming a crime novelist? What nudge you towards the genre?
MB – I was really not enjoying the work I was doing for TV where scripts tend to be developed by committee. I'd taken my name off several projects before I finally decided I'd had enough, but even though I'd written all sorts of stuff before that (terrible poetry, bad plays, my own stand-up material) I was wary about trying my hand at a novel. Once I took the plunge, however, it was always going to be crime. Put simply, crime fiction had been my passion from a very early age. Once I'd discovered Sherlock Holmes, aged eleven (me, not him) I was hooked. I've talked in many interviews about how the work I'd done up to that point influenced and helped me. From TV writing I learned the discipline of deadlines and delivery and the importance of dialogue, which, as a TV writer is pretty much all you have to work with. Stand-up taught me about engaging with your audience quickly and keeping them engaged. A crime novel contains many similar elements to a stand-up routine. It is full of punchlines (though usually very dark ones) and, of course, timing is everything. I firmly believe that a novel is a performance…
What about you? Your background is rather more academic than mine. How does a classicist come to murder so many people on the page? Was it all that Greek tragedy?
PJ – No, I think it was Homer's Odyssey, which I read in English when I was about seven (precocious, moi?) – plenty of crimes in there. Although I read classics for a couple of years at Oxford, I then changed to Modern Greek and did a Masters in comparative  literature, much of which involved analysing that well known crime writer DH Lawrence. I'm really an academic manque, whence my studying for a PhD in creative writing at this advanced  age. You mention Greek tragedy, which I read a lot of – no shortage of crime, murder etc in that either, but the biggest classical influence on my early writing was Plato. My Quint Dalrymple series, set in an independent Edinburgh in the 2020s, had more to do with the Republic than science fiction, though Orwell and Huxley are also presiding deities and there's a hefty Blade Runner homage in the last book. I think I'd describe my approach to crime writing as intellectual rather than academic, actually, even though I know that will lead to endless mockery. I start a book with ideas – I don't mean plot or character ideas, though they're there too, but political or even philosophical concepts. Body Politic and its successors raise all sorts of issues about totalitarianism, education, the environment (especially the energy and water supplies), censorship, cloning and so on. I like a crime novel that asks the reader to think…..Read more.