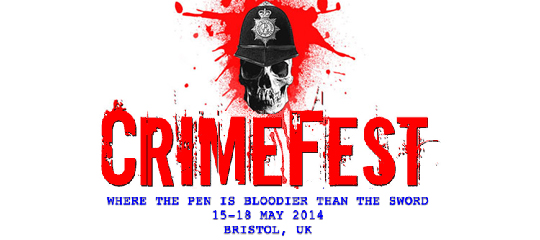 Summer 2014 offers some great conferences, festivals and crime-related events.  There are, of course, two excellent annual events scheduled in Bristol and Harrogate, the Crimefest convention and the Theakston's Old Peculier Crime Writing Festival. In addition Crimeculture particularly recommends the Manchester 'True Crime' Conference (Call for Papers deadline 18th April), an inventive 'Crime Story' weekend in Newcastle, and, in Ohio, the Crime Studies Network's 'Evil Incarnate' conference.
CRIMEFEST   Bristol, United Kingdom   15th – 18th May 2014 
Now established as one of the best annual crime events, the international crime fiction convention, Crimefest, has a Programme that includes panels on locked rooms, women as victims, the modern thriller, the paranormal, political thrillers, the hired gun, Euro noir, psychotherapists and psychiatrists, plus interviews with Nicci French, Lars Kepler, Yrsa Sigurdardottir – and much else.
Crime Story: Weekend Festival for Crime Writers and Readers   Newcastle upon Tyne, United Kingdom   31st May – 1st June 2014
Spend a weekend getting under the skin of a fictional crime with top crime writers, criminologists, lawyers, police and forensics experts. See also the link on this page to the Northern Crime Competition.
True Crime: Fact, Fiction, Ideology    Manchester, United Kingdom
   Saturday 7th June 2014
David Schmid is the keynote speaker at this fascinating interdisciplinary conference which will explore the genre in its myriad incarnations. The programme is now online at http://www.hic-dragones.co.uk/true-crime-programme/
David McWilliam, who is presenting at and co-running True Crime: Fact, Fiction, Ideology, is interviewing Jean Murley on the Twisted Tales site. Jean Murley's first book was The Rise of True Crime: 20th Century Murder and American Popular Culture and she is currently working on a book about wrongful conviction in America, tentatively titled Collateral Damage: The Outrage of Wrongful Conviction: Eight Families' Stories.
Queens of Crime Conference   Institute of English Studies, Senate House, University of London 12th – 13th June 2014  
Since the 1920s, women have been among the most prolific and influential authors of crime fiction. Some of the best-known heroes and anti-heroes of fiction are also women.  This conference will address the relationship of gender and genre, past and present, and the known and the unknown. Keynote speakers: Val McDermid and Dr Lee Horsley.
Evil Incarnate: Manifestations of Villains and Villainy   Case Western Reserve University, Cleveland, Ohio, USA   11th‐13th July 2014
The Crime Studies Network is a group devoted to the interdisciplinary study of representations of crime. In 2014, it is holding its first conference outside the UK. With keynote speakers from the disciplines of Religious Studies, Justice Administration and Film Studies, the conference asks what defines villainy and how villains are represented.
Theakston's Old Peculier Crime Writing Festival   Harrogate, United Kingdom  17th -20th July 2014
"For one long, sultry, summer weekend the temperature in Harrogate rises whatever the weather as the world's hottest celebration of crime writing swings into town." This year's festival has a stellar line-up, including Ann Cleeves, Robert Galbraith, Sophie Hannah, John Harvey, Lynda LaPlante, Laura Lippman, Peter May, Val McDermid, Denise Mina and S. J. Watson.