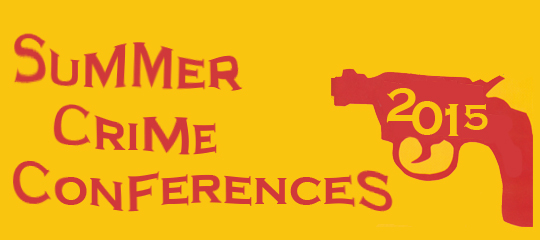 CRIMEFEST:
the

international crime fiction convention

14 – 17 May 2015, Bristol, UK – With more than fifty events spanning four days, and the participation of close to 140 authors from around the world, CRIMEFEST may well be the UK's biggest crime fiction convention! The CRIMEFEST PROGRAMME is now up on the website.
Orange is the New Black and New Perspectives on the Women in Prison Genre
5 June 2015, Edinburgh Napier University – Please follow this link to register: http://store.napier.ac.uk/browse/department.asp?compid=1&modid=1&deptid=24
Nordicana 2015: Nordic Noir & Beyond
6 – 7 June 2015, Roxy theatre, London – Addicts of Nordic crime dramas will be able to get their fix at the Roxy theatre in London for the 3rd Nordicana festival. The event promises a plethora of top talent from internationally famed writers to the brightest stars of film and television. Sofie Gråbøl, detective Sarah Lund in The Killing, is the first confirmed headlining guest. For the first time ever, Nordicana will also be recognising other top European shows influenced by the Nordic style. For more information visit the Nordicana website.
James Ellroy: Visions of Noir
1 – 3 July 2015, University of Liverpool – The conference will examine Ellroy's influence on the genre, his inspirations as a writer and his achievements in forging an idiosyncratic and unique style. The keynote speaker is journalist and critic Woody Haut. In addition, there will be an event with distinguished crime novelist and lawyer Martin Edwards who will be discussing his new book, The Golden Age of Murder. Conference webpage: https://www.liv.ac.uk/english/our-events/ellroy/
Women, Narrative and Crime: An Interdisciplinary Conference
9th July 2015, Teesside University (Darlington Campus) – Keynote Speakers: Deborah Jermyn (Roehampton) & Lizzie Seal (Sussex). This interdisciplinary conference will bring to together researchers and practitioners from the arts, humanities and socials sciences to explore questions of narrative and crime in relation to violence against women, as well as addressing themes relating to women, crime and justice more broadly.  See http://www.tees.ac.uk/sections/whats_on/events_details.cfm?event_id=7297