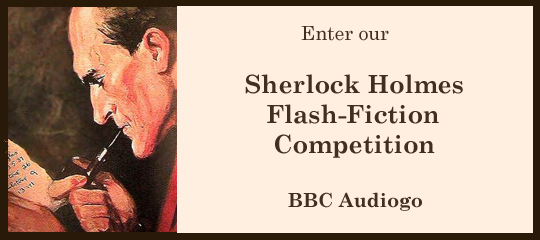 Winner
'The Problem of the Overtired Undergrad', Ari Scott-Zechlin
[Read our interview with Ari…]
Runners-up
'Iustitia', Tara Coffin
'A Study in Iron', Thomas Pinder
Short-listed
'Nuremberg', Ros Ballinger
'Golden Blaze', Rhys Barter
'The Undead Detective', Rhys Barter
'Paul Wallace', Sarah Borroum
'Desert Island Dicks', Paul Chiswick
'One-Way Sherlock', Dennis Mombauer
'Dear Mr Spade', Charles Rzepka
'Ideal Holmes', Alex Watts
The Sherlock Holmes Flash-Fiction Competition received over a hundred entries.  We greatly enjoyed reading all of the stories submitted.  Our judge, Sean Cregan, writes:
There are some good ones there! I had a hard time picking between 'Iustitia', 'A Study In Iron', and 'The Problem Of The Overtired Undergrad'. I'm going to say 'Undergrad' just about takes it though.

It was very, very tight, but 'Undergrad' just edged it for me on the style and quality of the writing – there's a couple of lovely turns of phrase in there. The conceptual switch is a nice one too, like a modern (and more grown-up) update of 'Young Sherlock' minus the ambulatory cream cakes, told from an outside point of view (and you can't go wrong with a sly Mrs Hudson reference). Very tight field, very hard to pick, but this one shaded it.
The Competition:  Our Sherlock Holmes Flash Fiction Competition was part of an AudioGo promotion. We asked that stories be no longer than 400 words and that they should feature Holmes in another time and place or in a different genre, e.g. gothic, hardboiled, cyberpunk or sci-fi. The Crimeculture editorial team shortlisted a group of stories and Sean Cregan, author of explosive and brilliant cyberpunk novels The Levels and The Razor Gate, judged the overall winner and the runners-up. The shortlisted and winning writers will have their work published on the Crimeculture website during July.  The winning writer will be interviewed, published on Crimeculture and presented with a set of BBC Sherlock Holmes audiobook CDs; our two runners-up will also receive AudioGo prizes.
In May – July, Crimeculture is featuring Sherlock Holmes and classic detective fiction.  See our front page links to some of our past articles on detective fiction, and our new contributions:   Aysegul Kesirli's  "Reading House M.D. as a Detective Drama," which considers Gregory House in comparison to Holmes and to hard-boiled detectives; and Ashleigh Prosser's ''The Genius Detective' in classical detective fiction," which discusses Poe's Three Tales of Ratiocination and Doyle's A Study in Scarlet.